(This post backdated to the date it happened, not the date I wrote it.)
Not much to day 3, but during breakfast a rather impressive hot air balloon sailed by not too far away. We caught a cab to the airport, the only notable thing about the trip back being that tea strainers bought on Friday and packed in the hand luggage attracted the attention of the security scanning people. As did Marita's boots. And her handbag, which had a nail file in it. Then they decided she was worthy of a random explosives scan. Hmmm. Maybe I have a dangerous girlfriend.
We got back into Melbourne on time about 11:10, and Marita and Justine headed for Trentham to get their dog, while I caught the Skybus then and a train home.
All in all, a great weekend away. There's lots more of Canberra to see, and I look forward to getting back there soon.
(This post backdated to the date it happened, not the date I wrote it.)
It might have been a negative-something night outside, but the bed was lovely and warm. We awoke, had breakfast and showers, and …
Wait, I should mention the shower. Everything in the serviced apartment we stayed in was great. Except the shower. It was designed by sadists.
The shower head was at about the level of my nose, so I had to crouch down to get my hair wet. A sign extolled the virtues of short showers, but surely that's not the type of short shower the water authority had had in mind.
Worse, the taps had pointy handles, so as I was crouching, I kept stabbing myself in the back. I don't think I'm making too much of it by saying that a special place in hell should be reserved for whoever designed that shower.

So, after showering we headed out to (new) Parliament House on foot.
We walked up Canberra Way Avenue and found the back end of Parliament House, including the loading bay and garbage collection area. Very nice. As I snapped a picture of it, Justine backed away in case any security personnel were about to burst out of the bushes and wrestle me to the ground.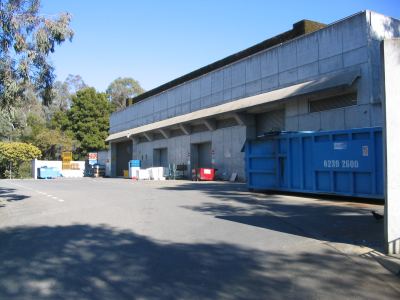 Around to the front for the obligatory photos of the big wire coat of arms, through the security check and into the building itself. My, but it's big. Very damn big. And given how big it is, there didn't seem to be huge numbers of tourists moving through, though there were a couple of overseas tour groups. It had me wondering why the insides of foreign countries' parliaments would be interesting to people. It's not like they'd often see the inside of our parliament on the news or anything.
We found the House of Representatives. The attendant was handing out maps of where each MP sat. Not that it was in session of course, but I managed to spot my local MP's seat. Similarly in the Senate, they had a map so I could find my state's senators.
A lift was available to go up to the roof, a big grassed area with the humungous flagpole in the middle (prompting the Get Smart variant joke: "That's the second biggest flagpole I've ever seen". There was a terrific view over the city from the top.
The roof itself isn't really that high up off the ground — part of the grassed area actually slopes gently down to nearby the entrance, but it's fenced off for security reasons. So the building, while huge, is largely underground. Now I'm wondering if it inspired the Teletubbies house.
As we walked down to Old Parliament House, a procession of WW2 jeeps, trucks and motorbikes was coming up the driveway, as preparation for the following days' VP anniversary events.
After a hot chocolate at Old Parliament House, and a quick look for the famed John and Jeanette Howard postcards (such a sickly thing; perfect for sending to relatives, but alas I could only find John) we got a lift from one friend to another's house in Florey, a suburb in the North East.
Tangent: transport and urban form in Canberra
This just re-inforced to me how spread out Canberra is. Some naysayers claim that Melbourne is too widely dispersed, too low density to support viable public transport. To that I now say pah, if you want low density, look at Canberra. It's undoubtedly very green, but everything is so spaced-out so as to make any trip (but particularly on foot) a long one.
There are big gaps of bushland between the activity centres, with not-quite-freeway roads linking them. While the traffic isn't too bad, so it would be theoretically possible to cycle on the roads, I reckon you'd have to be super-fit to handle the distances.
And there are big gaps between the government buildings in the Parliament House area… for the most part huge carparks that fill with the cars from workers during the week, but leave a concrete and ashphalt desert on the weekend. This makes the entrances to some of the buildings (such as the National Gallery) quite unfriendly for pedestrian tourists. A stark contrast to the National Gallery of Victoria, for instance.
So it does seem that all of Canberra is car-dependent. There are buses, but most of them don't seem to run particularly often (perhaps every 20 minutes at best), and not many run late at night. Consequently few people seem to use them. The level of traffic isn't terrible, probably because the population is under half a million. One wonders what the anticipated growth is, and what kind of planning has gone into it, as when and if it reaches a million, there could be dire problems (even beyond the current ones of total car/petrol dependence in an environment of spiralling petrol prices; job catchment and social issues for isolated youth and the poor; and the usual batch of issues associated with the road deficit).
Interestingly, the subject of impending road expansion came up several times in conversations with the locals. One major road project is held up in the courts at the moment, but some (completely unprompted from me) raised the topic of public transport alternatives. Light rail in particular has a lot of backers, but the ACT government seems to have no stomach for it, apparently failing to realise the effects of induced traffic following road expansion.
Back to the travelogue
We had lunch at Marita's friends' place, then afternoon tea with my friend Merlin, one of a handful of people I've known since primary school. His two and a half year-old son Kai was going gangbusters, which was amusing to watch. Merlin and his family face a similar situation to mine: currently renting in a cold depressing house they don't like, but light is at the end of the tunnel, as they're buying and will move in the next few months.
Merlin gave us a lift back to Kingston. We watched the TV news for a bit, trying to find the AFL scores, but eventually gave up and checked them via SMS/PocketNews. Canberra's TV stations are more focussed on rugby. In fact on Friday night we'd found that with a combination of free-to-air and the hotel's hobbled Foxtel options, we'd had two channels of rugby, two of cricket, a handful of crap movies, and frustratingly, no AFL.
Then via cab we headed out for the birthday party that had brought us to Canberra in the first place, in a suburb I can't recall, somewhere around the back of the rather imposing Black Mountain and its viewing/communications tower.
(This post backdated to the date it happened, not the date I wrote it.)
Marita, Justine and I got a lunchtime flight out of Melbourne, and got to Canberra, Australia's capital city, a little less than an hour later. Straight off the plane, through baggage claim and into a cab bound for Kingston, and the serviced apartment we were staying in.
They kindly offered us a discount voucher to Cockington Green, a miniature village nearby. Obviously as three people who had come to Canberra to catch up with friends and take in a few galleries and national buildings, it was very difficult to convince ourselves that we shouldn't drop all those plans and spend our limited time going to look at miniature English village buildings.
After settling in we set off walking. It was mid-afternoon, quite cold (though not as cold as a few days previous when I'd observed Jim Middleton on the ABC News reporting from Canberra in the middle of a snow storm). A reasonable walk got us to the National Gallery of Australia. I snapped a photo of the big ball-like thing hanging in front of the entrance, then wished I'd kept the camera out and primed for another 20 seconds, as two helicopters thundered by behind it at low altitude.
The NGA building was pretty uninspiring from the outside, but inside was a wealth of great stuff. We wandered around, admiring some great art, including that of McGCubbin, probably my fave John Brack, Brett Whitely, a Picasso or two, Pollock's Blue Poles, some Heidelberg School and some great Aboriginal art. An Albert Tucker caught my eye, with its portrayal of a Melbourne number 6 tram. Then I noted the body parts strewn on the ground around it. Hmmmm.. Not sure I quite understand that.
After some time in the NGA, we decided to walk over to the National Library of Australia, primarily for the great coffee shop, famed in song and fable. It was closed … D'oh! But on the way we did note a monument to Vincent Lingiari, which had a tinny speaker playing Paul Kelly's From Little Things.
It was now about 5pm, and we noted that the Canberra rush hour in that particular part of the city seemed to entail up to 5 cars in a row. The whole place is very spread-out (more about that later), and there were funny round bus stop shelters dotted about the place.
We were now in dire need of a nice hot cup of tea, but none were to be found, as the cafes attached to each building had shut up for the night. We walked back past Old Parliament House and the Aboriginal Tent Embassy, and headed for the Kingston Shops, where we bought supplies (including tea).
After a cup of tea and a rest, we headed out again for the Manuka shopping centre to look for a nice place for dinner. Eventually, we found it: Christophe's, a French provincial restaurant, serving just precisely the kind of food you want on a cold night. Not cheap, but hot and totally delicious. I may not know how to pronounce it, but I can tell you the Beef Bourguignon was superb, as was the Crepe Suzette.
Full, we waddled out of the restaurant and staggered back to the apartment. To say it was cold would be a gross understatement, but at least we walked off some of the food.
I'm off to Canberra until Sunday. Be good, and don't burgle my house.
PS. 12:05pm. Courtesy of Justine, hello from the Melbourne Qantas Club. Woo hoo, free Internet!
PPS. Sunday 12:40pm. Well I just flew back from Canberra, and my arms are tired. Will post about it soon. In the mean time, Tony and Rae have some great news… Albert has arrived.