Finally got around to watching The Hobbit part 1.
I thought being the first of three films, and at 2 hours 45 minutes, it would drag a bit, but it really didn't. Nicely done.
Cumberbatch really nailed Smaug, didn't he. I can just see him going into a studio to record his voice for part 1. "Okay Benedict!" "Rrrrroooooooaoaaaaaaaarrrrr!" "Excellent, thanks very much — see you next movie."
(Yeah yeah, I know, he also played the Necromancer.)
And 7th Doctor Sylvester McCoy as Radagast was good. No spoons to play though, thankfully.
It all looks gorgeous on Blu-Ray, of course. One notable thing though, it's one of a small number of discs I have which drops a few frames in some scenes on my setup. Might be an image correction/quality setting on the TV which isn't handling the throughput — perhaps I can switch it off.
Anyway, very much looking forward to part 2.

Among the presents I got for my birthday was a JB Hifi gift card. This always presents a challenge: what bargains can I pick up?
Browsing around the store one day, I found the two Harry Potter movies we don't already have — the Deathly Hallows parts 1 and 2 — on Blu-ray, for $14.98, and on a two-for-the-price-of-one deal. Sold.
But what to spend the remaining $14.02 on?
Here are the prices of some movies and other discs that are on my To Buy list… with a comparison between Amazon UK, JB Hifi and Ezydvd.
| Title | JB Hifi | EzyDVD | Amazon UK |
| --- | --- | --- | --- |
| Firefly (TV series) Blu-ray [1] | $36.98 | $42.97 | £15.00 ($21.93) |
| Doctor Who (series 5) Blu-ray | $133.99 | $139.97 | £17.00 ($24.65) |
| Doctor Who (series 6) Blu-ray [2] | NA | $119.97 | £18.25 ($26.35) |
| Tintin(movie) Blu-ray 2D [3] | $49.99 | $52.97 | £8.25 ($12.72) |
| The Slap DVD[4] | $55.99 | $57.97 | £6.77 ($10.71) |
[1] Firefly was recently about double this price in Australia for the Blu-ray. It seems they've now brought it down to a reasonable price at last.
[2] JBHifi online only lists the part 1 and part 2 Blu-rays of Doctor Who series 6, which excludes extras.
[3] The Tintin movie in Australia appears to be only available on Blu-ray with bundled (but in my case, unwanted) DVD and digital copy. Amazon has this edition as well, at 10 pounds more than just the Blu-ray. In Australia, the 3D Blu-ray is another $10, making it around $60.
[4] I'm not really in the market for this, but I thought I'd throw it in as an example of an Australian production. In Australia the price of the DVD or Blu-ray seems to be equally high. Amazon UK only lists the DVD; no Blu-ray.
The dollar prices for Amazon UK above are with the VAT deducted, and the £1.49 per item delivery cost added. There is an additional £2.09 ($3.27) cost per delivery, which is why most people try and buy multiple things at once, rather than ordering items one-by-one.
But even with delivery costs, some of these items are ludicrously more expensive buying in Australia. It's not hard to see why people are importing — and also not hard to see that while some retailers want 10% GST added to imports, it would make hardly any difference at all — not when in some of these cases Amazon will deliver it to you for a fifth of the Australian price.
The rise of the Aussie dollar has obviously played a part here, but this isn't new… it's been over 60 UK pence for about two years.
And I'm not saying the retailers are necessarily to blame here, but something somewhere in the supply chain for these products is obviously very fishy indeed.
PS lunchtime. Obviously the price differential is quite different for various products and types of product. I think I actually got a pretty good deal on the Harry Potter Blu-rays, and I doubt they are cheaper via Amazon… this of course makes it all the more puzzling. Ultimately someone in the supply chain believes that Australians shopping locally are prepared to pay higher prices than our UK friends… that, after all, is how the free market operates.
By the way, unlike for DVDs, the UK and Europe is the same region for Blu-ray discs as Australia (region B).
PS 18/11/2012: I did eventually buy a couple of these yesterday during a JB Hifi "20% off DVDs and Blu-ray" sale. Firefly (still at around $37) went down to about $30, which is close to the US price (though still a bit above the UK one), and Tintin now has a new Blu-ray only edition retailing for $19.95. At 20% off that took it down to about $16. I also noticed The Slap has dropped to about $40.
I never quite believed I'd see much of the difference between DVD and Blu-Ray on an 80cm (32 inch) TV. But with brand-name Blu-Ray players now below $100, and releases such as the complete set of Star Wars movies out on Blu-Ray, this past Christmas seemed like the right time to jump in and try it.
One of the presents I got was the Blu-Ray of Tron: Legacy, which also included the original Tron movie. Since I already had the DVD of the former, I'm able to compare the DVD against the Blu-Ray versions.
The scene from Flynn's arcade had a lot more detail on the Blu-Ray, but you can't really see it in a photo, so I won't post it here. Jeremy and I looked carefully at this scene and were able to identify the names on some of the machines, for instance, which is impossible using the DVD.
More stark is the difference in this shot from the lightcycles scene, first on DVD:


(See it bigger)
…and on Blu-Ray:


(See it bigger)
There's a lot more contrast in this scene on the Blu-Ray version. I think it's not just a format question, it's also that they've taken a lot more care in remastering the video. But the resolution being better also undoubtedly helps, and this is particularly noticeable (on the TV, perhaps not in the photos) with the grid lines.
Things to keep in mind:
The DVD was from before the sequel movie was made, and it's entirely possible that not a great deal of care was taken in the mastering. In comparison it appears they took a lot of care on the Blu-Ray version. It's entirely possible that the current edition DVD is better.
These comparisons were snapped off my TV with a camera, with the blinds drawn to reduce light. The snapshots were not taken under ideal conditions. (I don't currently have any Blu-Ray drives in a computer, so I'm unable to grab a Blu-Ray image directly.) As noted above, it's difficult to convey the difference seen on the TV in a photo.
I've used the freeze frame, which may impact the picture.
There's no denying the higher quality of Blu-Ray, even on an 80cm screen.
Question is, which movies or TV would I consider worthy of upgrade, and at what cost? I can't see myself shelling how lots of money for discs of movies I already own. But for future purchases, I'd certainly lean towards the newer format if the price is not prohibitive.
(I did find The Life Of Brian on Blu-Ray, with lots of extras, for $8 yesterday at K-Mart.)
Look! It's Tintin on a bus…

And here's Tintin on a tram (and a tram in Tintin)…

So anyway, we went to the Tintin movie yesterday — in 2D, as 3D doesn't work on me. I enjoyed it a lot. They did a good job of recreating the look of Herge, and there were plenty of references to keep Tintin nerds like me entertained.
The first half of the movie had a lot of bits of Tintin stories all mushed together, and it was a bit like watching a rock concert, recognising the start of a scene, but being keen to see how they used the material.
[Limited spoilers ahead]
Read more
…and if so, how many seconds did it take you?
Update 8pm: Yes, many guessed, some didn't.
I came across it when I was at home on Monday. Unfortunately I didn't stay tuned… apart from George Cole (better known as Arthur Daley), Sid James and Joan Sims, there was another familiar face somewhere in there, a one-time associate of the above gentleman.
I don't have a proper blog post for you, so here's a few pictures from the last week or so.
If you were looking for Myer's Lonsdale Street store, it's gone — almost all of it except the facade.


(When I was a kid, we often went into the City on a Friday night, had dinner at the Coles cafeteria in Bourke Street, then made our way up through the back of Myer to level 6, where the toy department was, before heading to Lonsdale Street to catch the 602 bus home.)
Great to see Yarra Trams continuing its removal of mystery "phantom" route numbers. This "67a" (that's "a" for altered) was diverted during the Queen's visit.

Southland: Beware of crocs.

Darth Maul in a playful mood at EB Games, Southland.

From the popup text of the comic reproduced below:
We're also stuck with blurry, juddery, slow-panning 24fps movies forever because (thanks to 60fps home video) people associate high framerates with camcorders and cheap sitcoms, and thus think good framerates look 'fake'.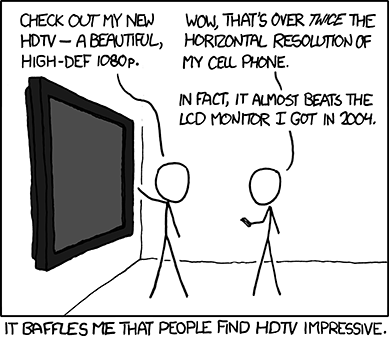 The first DVD I played on my old Loewe TV when I got it (in June 2002, though staggeringly I appear not to have blogged about it) was scene two of O Brother, Where Art Thou — where our three heroes try and jump aboard a freight train.
I dug it out to try the DVD player with the new TV, the other day.
With the ol' Pioneer DV-344 and component cables (actually just repurposed RCA cables), the picture is amazingly clear, and the film incredibly smooth. So much so that, as per the comment above, it does look like it was shot on cheap video — in fact it reminds me a little of old programmes from the 60s shot on video.
I assume that a combination of the component cables, plus the TV refreshing at 100 Hz is doing it.
I'm far more used to material being shot on film looking a teensy bit grainy, but I suspect I'll get used to it.
PS. Even the TV reception looks better than it did in the shop. Not sure what the deal is there… though in real life we view the screen from further away than it is in the shop.
I don't see a lot of movies in the cinema, so call me slow if you like, but I think I've worked out why big TVs and DVDs and Bluray are getting so popular.
Freaking $18.50 for an adult, $13.50 for kids? (And this is at 10am on a weekday — I don't know if their pricing varies at peak times.) Plus $4 each for Choc Tops, and $3.90 for a bottle of water. $61.40 for a movie with a snack? Gordon Bennett.
The silver-lining is there was only one other person in the theatre, sitting right up the back, so we got pick of the seats.
And the movie itself? Spectacular, but not deep. Enjoyable but not utterly brilliant. A little like the original, in fact.